Earn a one time 500 points reward for registering. The recommended first step after registering is to enter a biometric assessment upon first time login to the app. Go to the Health page in the App > select New Health Assessment. This allows the app to calculate target calories and for our coaches to better help you manage a healthy lifestyle.

The app allows the user to earn points based on manual entry of sleep, fitness, nutrition and water intake. If you connect an approved wearable, you can earn extra points for validated metrics such as exercise validated heart rate, steps and sleep. Approved wearables include Fitbit, Garmin, Polar, and Apple.
Wearable Connection – earn a one time 500 points reward for connecting a wearable.

Higi Kiosk – earn 100 points, limit once a month, connecting Higi data. You can visit the kiosk and sync your results each time, but points are awarded one time a month from the date of registration.
Rolling Strong Coach – earn 50 points, limit once per week. * visit the app Health page to see your points.
Pharmacy Screening – coming soon – earn 1000 points, limit once per year with an annual screening by a pharmacy professional at one of our pharmacy network partners.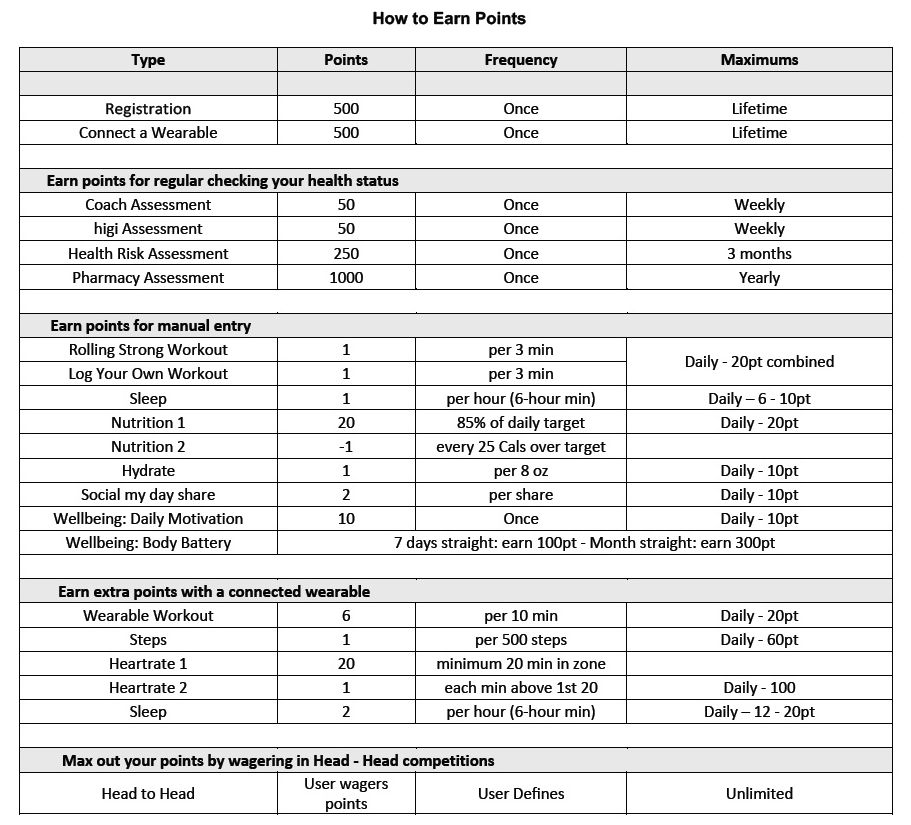 Rolling Strong Workouts – earn 1 point per 3 minutes. RS workouts are routines custom designed by the Rolling Strong Team that are filmed in and around the truck, using various trainers with or without Rolling Strong FLEX equipment.
Log Your Own Workouts – earn 1 point per 3 minutes. Allows you to manually enter other types of exercise such as walking, running, weightlifting and more! We use the MET standard for calculating an estimated calorie burn based on an individual's BMR.
We give the benefit of the doubt when allowing users to manually enter workouts up to 60 minutes per day to earn points. If you want to earn more points for your exercise, connect a wearable to validate heart rate and steps.

Steps – earn 1 point for every 500 steps, up to 30,000 steps, per day. Max 60 step points per day. Users will need a connected wearable to sync steps.
Heart Rate Validated Exercise – earn 20 points for 20 minutes in or above fat burning zone. Receive an additional 1 point per minute, over 20 minutes, in or above fat burning zone. Max 100 heart rate points for 100 minutes per day. Heart rate validated exercise points are awarded the following day.
** Garmin, Polar, and Apple wearables are heart rate compatible with the Rolling Strong App. Fitbit and Samsung will be added in an upcoming release.
** Note-Sync your wearable to it's specific native App before updated data can be synced to the Rolling Strong App. We collect wearable synced data for the current day and the previous day so be sure to sync your wearables daily to ensure you receive points.

Manually Entered Sleep – earn 1 point for every hour slept. (minimum 6 hours, maximum 10)
Manual example-6 hours = 6 points, 10 hours = 10 points
Wearable Validated Sleep – earn 2 points for every hour slept. (minimum 6 hours, maximum 10) Wearable example-
6 hours = 12 points, 10 hours = 20 points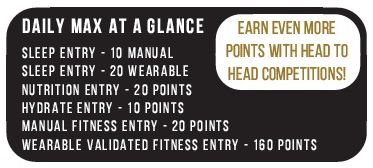 Log Calorie Intake – earn 20 points once you reach 85% of your daily target calories. Lose 1 point for every 25 calories over your calorie goal.
Example – if target calories is 2000, user earns 20 points once 1700 calories are logged that day. If user goes over their target calories, 1 point is subtracted from earned 20 points for every 25 calories over users daily target.

Log Water – earn points per 8 oz water intake. Max 10 points when you reach your target water intake. (Total target oz. divided by 10 = oz. needed for 2 points)
Coming Soon: Earn double hydrate points for connecting a Bluetooth water monitor.

Per Week with max points
= 1440 points + 1 coach health check @ 50 points = 1490 points
Per Month with max points
= 6040 points + 4 coach health check @ 200 points + 1 kiosk check @ 100 points = 6340 points
Per Year with max points
= 73,040 points + 52 coach health check @ 2600 points + 12 Kiosk Checks @ 1200 points + 1 Pharmacy Screening
@ 1000 points = 77,840 points

You can earn even more points! There is no limit to how many head to head ( competition between two app users) challenges you can participate in. To start a head to head competition, go to the Community icon, select the Social button, then select the Friends button. * You must be friends with a user before you can challenge them. Once the user is in your friends list, click on the three dots next to their name, select challenge, enter the points to wager and days to compete. The person that gets the most points from challenge start date to challenge end date is the winner.

Users can trade in their points for rewards in the app. Go to the Community icon then select the Rewards button.
At Rolling Strong, we want to give back to app users that are making progress. We can't give away the farm, but we can let you earn something for your hard work. This is why we have a limit for points per day. If there were no limits, we would give away more rewards than we have available. Your real reward is obtaining better health. In addition to Rolling Strong Rewards, your company may participate in an additional rewards program, including company competitions, bringing a whole lot more to the table than the general rewards that come standard with the program.