Rolling Strong proudly hosts this year's MCE virtual Health Competition and 5K!
Now more than ever our professional drivers need to take care of their health. Lead by example and participate in this event.
Velociti is proud to sponsor this year's Virtual 5K. As Rolling Strong's sister company and the industry's leading technology solutions provider, we're committed to the health and well-being of the trucking industry – from drivers to the corporate teams that power them. We understand how planning for your company's next technology rollout, like training for a big race, requires the right partner and tools to 'win.' We'll leave the race training to Rolling Strong, but at Velociti, we can help you design, deploy and maintain your ideal connected supply chain. Thank you for participating and good luck!

All Registrants receive –
Rolling Strong Mobile App (free for 2020)
Access to Health Competition and 5K
Earn points and win rewards for logging healthy behaviors
5K training support (stretching, activation, nutrition and more)
Work with a Rolling Strong Wellness Coach to help you get across the finish line.
Every attendee of MCE can join the Rolling Strong Games health competition. If you have signed up for the 5K, you will be able to submit your times manually on the RS/MCEHealth Comp webpage. There will be 1st, 2nd and 3rd place winners in a few different categories.
Prizes sponsored by Velociti
Winners brackets include –
Non-wearable users
Wearable users
1st, 2nd and 3rd places
Rewards include –
Garmin, Fitbit
Giftcards
Backpacks
Bison Coolers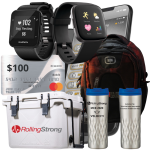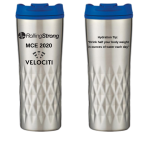 All 5K finishers will receive a Rolling Strong 2020 MCE engraved tumbler.